Since its inception ,MUROVHI FINANCIAL SERVICES has become one of the recognizable names in the financial brokerage markets, especially in the short term insurance industry, That's hardly surprising ,because M.F.S is an example of how a brand can change an industry.
Masala Murovhi had a vision of a new and better way of doing things and so MUROVHI FINANCIAL SERVICES was born. Great brands succeed by selling products and then maintaining the position at the fore front. The company began with a revolutionary proposition in all the transactions
Unheard of at the time MUROVHI FINANCIAL SERVICES concept shook the industry to its core and the company still reaps the benefits of innovation while perfecting systems to provide its clients with better products and improved services. The interactive client services system was so successful that several insurance brokers followed suit.
To make personal insurance work, maintains underwriting that tailors insurance premiums according to individual risk profiles, keeping all the client advices, complaints and store all files safe all the time. MUROVHI FINANCIAL SERVICESmaintains this systems challenging industry players.
The direct insurance system this days began an information revolution offering customers the chance to ask questions and receive answers about their policies. MUROVHI FINANCIAL SERVICES has been at the fore front of that revolution, investigating ways to make the clients easier to understand the policies. Not surprisingly , theirs was the first short tenr insurance policy, these includes plain language a logical structure, a clean layout and descriptive headlines , enabling consumers to understand all the details and provisions of their policies.
This need for great consumer awareness and understanding was picked up by the SOUTH AFRICAN GOVERNMENT, which introduce the PPR , POLICY PROTECTION RULES on July 1, 2001, our ability to treat each customer as a separate niche market has been central to the MUROVHI FINANCIAL SERVICES
MUROVHI FINANCIAL SERVICES ensure high brand awareness among consumers,and to offer a free financial advice to the community special disadvantageous peoples around in SOUTH AFRICA.
MUROVHI FINANCIAL SERVICES has shown a steady growth over the past, often exceeding market trends to all.
LETTER OF INTRODUCTION & DISCLOSURES
In complying with the FAIS legislation, Murovhi Financial Services would like to bring the following information to your attention:
A copy of the licence, which contains details of the financial services Murovhi Financial Services authorised to provide, as well as any exemptions, is available for inspection on request.
Murovhi Financial Services have been providing financial advice and intermediary services since 2004 in the following areas of financial planning: Short Term Personal and Commercial Lines.
Murovhi Financial Services has written authority to market the products of the following product suppliers and we are accredited to market their products: Santam, Auto & General, Unity Insurance, CTU, Hollard, Regent, Tracker SA, and Net star. Mutual & federal etc.
Murovhi Financial Services do not hold more than 10% of the shares issued by any product supplier.
Murovhi Financial Services is remunerated for its services by being paid commission from the above product suppliers
Murovhi Financial Services received more than 30% of last year's commission and remuneration from the above product suppliers.
Murovhi Financial Services do hold professional indemnity insurance but do not hold guarantees or fidelity insurance.
Murovhi Financial Services may from time to time receive non-cash incentives from product suppliers or indirect consideration from other persons. we shall provide specific details should you request further information. we wish to advise that all information obtained or acquired about you shall remain confidential unless you provide written consent, or unless we are required by any law to disclose such information.
In the event that you are dissatisfied with any aspect of our service, you should address your complaint in writing to us at the following address:

complaints@murovhifinserv.co.za
A copy of our Complaints Resolution Policy is available on request.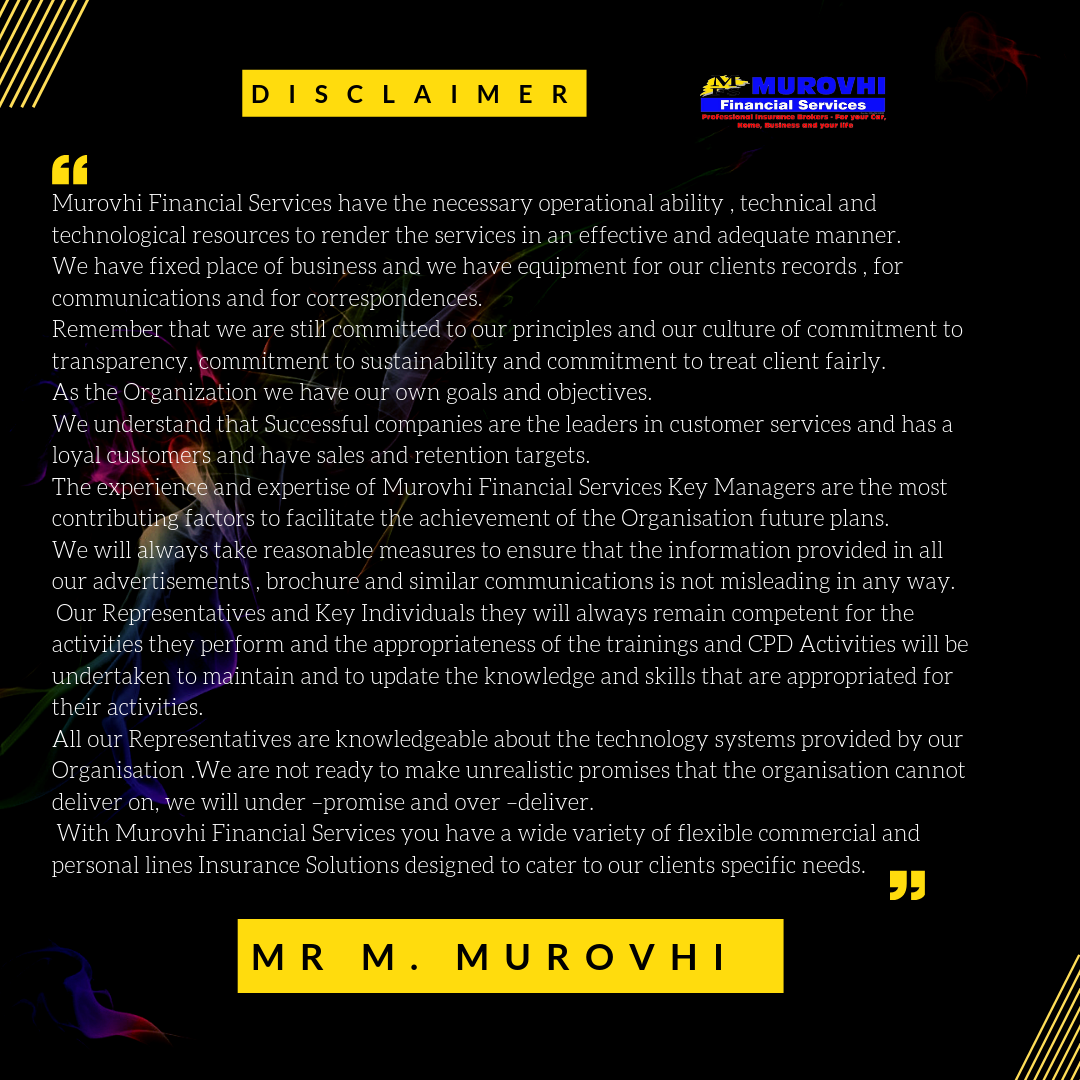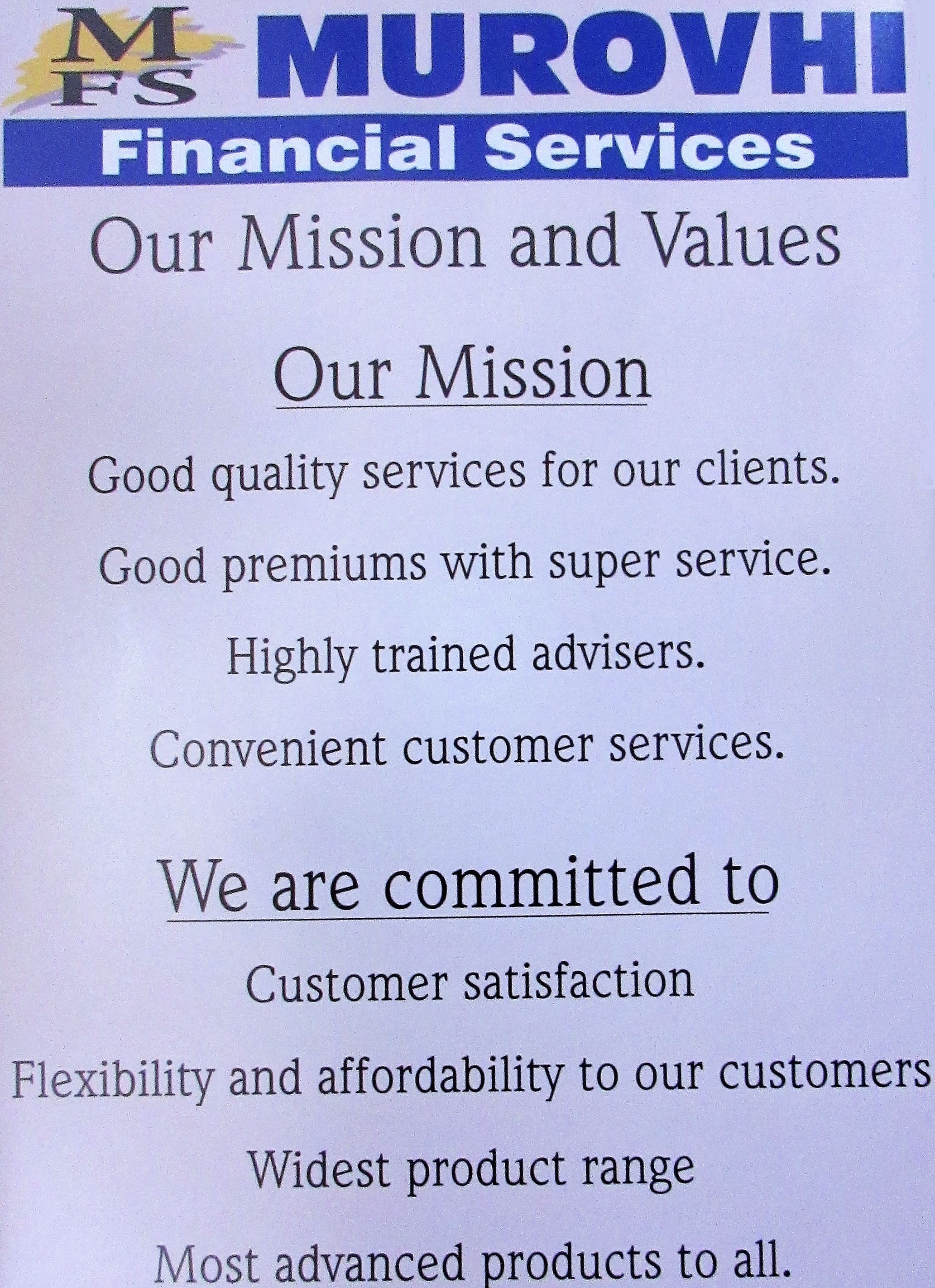 Look at our Introduction Video for testimonials and more information on our services